Side Open Glassine Envelopes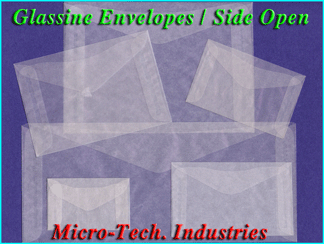 Side Open Glassines Envelopes

L122 #01 Glassine Envelopes: 2-7/8 x 1-3/4
A/10/ .51
B/25/ 1.01
C/50/ 1.68
D/100/ 2.80
E/1000/ 19.90
L123 #02 Glassine Envelopes: 3-5/8 x 2-5/16
A/10/ .59
B/25/ 1.17
C/50/ 1.95
D/100/ 3.25
E/1000/ 22.75
L124 #03 Glassine Envelopes: 4-1/4 x 2-1/2
A/10/ .63
B/25/ 1.26
C/50/ 2.10
D/100/ 3.50
E/1000/ 23.50
L283 #03E Glassine Envelopes: 4-1/4 x 2-1/2
New Style
A/10/ .63
B/25/ 1.26
C/50/ 2.10
D/100/ 3.50
E/1000/ 23.50
L125 #04 Glassine Envelopes: 4-7/8 x 3-1/4
A/10/ .63
B/25/ 1.26
C/50/ 2.10
D/100/ 3.75
E/1000/ 28.50
L126 #04.5 Glassine Envelopes: 5-1/16 x 3-1/8
A/10/ .77
B/25/ 1.53
C/50/ 2.55
D/100/ 4.25
E/1000/ 31.75
L127 #05 Glassine Envelopes: 6 x 3-1/2
A/10/ .86
B/25/ 1.71
C/50/ 2.85
D/100/ 4.75
E/1000/ 37.00
L128 #06 Glassine Envelopes: 6-3/4 x 3-3/4
A/10/ 1.05
B/25/ 2.09
C/50/ 3.48
D/100/ 5.80
E/1000/ 46.50
L129 #07 Glassine Envelopes: 6-1/4 x 4-1/8
A/10/ 1.13
B/25/ 2.25
C/50/ 3.75
D/100/ 6.25
E/1000/ 52.30
L130 #08 Glassine Envelopes: 6-5/8 x 4-1/2
A/10/ 1.39
B/25/ 2.77
C/50/ 4.62
D/100/ 7.70
E/1000/ 54.50
L131 #10 Glassine Envelopes: 9-1/2 x 4-1/8
A/10/ 1.80
B/25/ 3.60
C/50/ 6.00
D/100/ 10.00
E/1000/ 88.75
L132 #11 Glassine Envelopes: 10-3/8 x 4-1/2
A/10/ 1.94
B/25/ 3.87
C/50/ 6.45
D/100/ 10.75
E/1000/ 94.00
L255 Glassine Envelopes 10-1/2 x 2-3/4
D/100/ 19.24
E/1000/ 162.00
L133 #12 Glassine Envelopes: 11 x 9-1/2
A/10/ 2.70
B/25/ 5.40
C/50/ 9.00
D/100/ 15.00
E/1000/ 135.00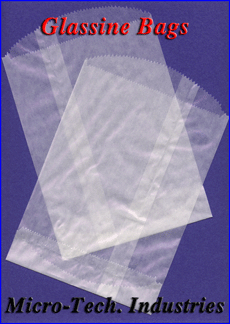 End Open Glassine Bags /w Serrated Flaps
Glassine Bags / with Serrated Flaps End Open

L323 Glassine Bags /w Serrated Flaps:
2 x 3-1/2
A/10/ .37
B/25/ .73
C/50/ 1.22
D/100/ 2.04
E/1000/ 15.23
L160 Glassine Bags /w Serrated Flaps:
2 x 3-3/4
A/10/ .45
B/25/ .89
C/50/ 1.49
D/100/ 2.48
E/1000/ 19.13
L161 Glassine Bags /w Serrated Flaps:
2-3/4 x 4-1/4
A/10/ .50
B/25/ 1.00
C/50/ 1.66
D/100/ 2.76
E/1000/ 21.34
L350 Glassine Bags /w Serrated Flaps:
2-3/4 x 10
A/10/ 1.45
B/25/ 2.91
C/50/ 4.85
D/100/ 8.08
E/1000/ 48.37
L324 Glassine Bags /w Serrated Flaps:
3 x 5-1/2
D/100/ 2.80
E/1000/ 21.60
L162 Glassine Bags /w Serrated Flaps:
3-1/4 x 4-3/4
D/100/ 3.06
E/1000/ 23.68
L274 Glassine Bags /w Serrated Flaps:
3-3/4 x 5
A/10/ .57
B/25/ 1.14
C/50/ 1.90
D/100/ 3.17
E/1000/ 24.51
L163 Glassine Bags /w Serrated Flaps:
3-3/4 x 6-1/4
A/10/ .73
B/25/ 1.46
C/50/ 2.44
D/100/ 4.06
E/1000/ 31.36
L164 Glassine Bags /w Serrated Flaps:
4-3/4 x 6-3/4
A/10/ .90
B/25/ 1.79
C/50/ 2.98
D/100/ 4.97
E/1000/ 38.38
L148 Glassine Bags /w Serrated Flaps:
4-7/8 x 6-7/8
A/10/ .58
B/25/ 1.16
C/50/ 1.93
D/100/ 3.21
E/1000/ 24.83
L165 Glassine Bags /w Serrated Flaps:
5-3/4 x 7-3/4
A/10/ 1.06
B/25/ 2.13
C/50/ 3.55
D/100/ 5.91
E/1000/ 45.69
L149 Glassine Bags /w Serrated Flaps:
5-7/8 x 7-1/8
A/10/ .74
B/25/ 1.47
C/50/ 2.45
D/100/ 4.09
E/1000/ 31.61
L166 Glassine Bags /w Serrated Flaps:
6-1/4 x 9
D/100/ 7.84
E/1000/ 60.57
L325 Glassine Bags /w Serrated Flaps:
6-3/4 x 9
D/100/ 6.25
E/1000/ 48.28
L150 Glassine Bags /w Serrated Flaps:
6-7/8 x 8-7/8
A/10/ 1.01
B/25/ 2.01
C/50/ 3.36
D/100/ 5.57
E/1000/ 43.22
L151 Glassine Bags /w Serrated Flaps:
7-3/4 x 9-3/4
D/100/ 11.02
E/1000/ 85.14
L152 Glassine Bags /w Serrated Flaps:
8-1/2 x 10-1/2
D/100/ 11.31
E/1000/ 87.40
L153 Glassine Bags /w Serrated Flaps:
8-1/2 x 11
A/10/ 2.40
B/25/ 4.79
C/50/ 7.99
D/100/ 13.31
E/1000/ 102.88
L154 Glassine Bags /w Serrated Flaps:
9-1/2 x 12-1/2
A/10/ 2.94
B/25/ 5.87
C/50/ 9.79
D/100/ 16.32
E/1000/ 126.10
L155 Glassine Bags /w Serrated Flaps:
10 x 11
A/10/ 2.76
B/25/ 5.53
C/50/ 9.21
D/100/ 15.36
E/1000/ 118.68
L156 Glassine Bags /w Serrated Flaps:
11-1/2 x 12
A/10/ 2.89
B/25/ 5.77
C/50/ 9.62
D/100/ 16.04
E/1000/ 123.99
L157 Glassine Bags / FlushCut No Flap:
11-1/2 x 14
A/10/ 4.32
B/25/ 8.64
C/50/ 14.40
D/100/ 24.00
E/1000/ 185.44
L278 Glassine Bags / w Serrated Flaps:
12-1/2 x 18-1/2
D/100/ 64.44
E/1000/ 508.50

End Open Glassine Envelopes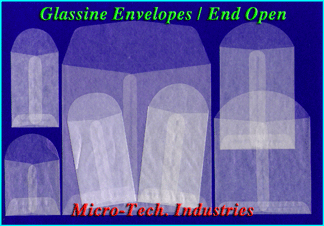 End Open Glassine Envelopes

L134 Glassine Envelopes: 1-3/4 x 2-3/4
A/10/ .53
B/25/ 1.05
C/50/ 1.72
D/100/ 2.92
E/1000/ 23.10
L135 Glassine Envelopes: 2 x 2
A/10/ .52
B/25/ 1.04
C/50/ 1.74
D/100/ 2.90
E/1000/ 22.90
L136 Glassine Envelopes: 2 x 3-1/4
A/10/ .65
B/25/ 1.29
C/50/ 2.15
D/100/ 3.59
E/1000/ 28.38
L137 Glassine Envelopes: 2-1/8 x 2-1/8
A/10/ .58
B/25/ 1.15
C/50/ 1.92
D/100/ 3.20
E/1000/ 25.28
L138 Glassine Envelopes: 2-1/4 x 3-1/2
A/10/ .68
B/25/ 1.35
C/50/ 2.26
D/100/ 3.76
E/1000/ 29.70
L139 Glassine Envelopes: 2-1/2 x 4-1/4
A/10/ .77
B/25/ 1.55
C/50/ 2.58
D/100/ 4.30
E/1000/ 33.99
L140 Glassine Envelopes: 2-3/4 x 2-3/4
A/10/ .68
B/25/ 1.35
C/50/ 2.26
D/100/ 3.76
E/1000/ 29.70
L141 Glassine Envelopes: 2-3/4 x 3-3/4
A/10/ .78
B/25/ 1.56
C/50/ 2.60
D/100/ 4.34
E/1000/ 34.32
L142 Glassine Envelopes: 3 x 4-1/2
A/10/ .90
B/25/ 1.80
C/50/ 3.01
D/100/ 5.01
E/1000/ 39.60
L143 Glassine Envelopes: 3-1/8 x 5-1/2
A/10/ 1.04
B/25/ 2.08
C/50/ 3.46
D/100/ 5.76
E/1000/ 45.54
L144 Glassine Envelopes: 3-1/2 x 3-1/2
A/10/ .82
B/25/ 1.63
C/50/ 2.71
D/100/ 4.51
E/1000/ 35.64
L145 Glassine Envelopes: 3-3/4 x 4-3/4
A/10/ 1.09
B/25/ 2.18
C/50/ 3.63
D/100/ 6.05
E/1000/ 47.85
L146 Glassine Envelopes: 4 x 4
A/10/ .99
B/25/ 1.98
C/50/ 3.31
D/100/ 5.51
E/1000/ 43.56
L147 Glassine Envelopes: 5-1/2 x 5-1/2
A/10/ 1.67
B/25/ 3.34
C/50/ 5.56
D/100/ 9.27
E/1000/ 72.60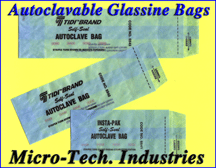 Self-Sealing Blue Glassine Autoclave Bags
End Open Blue Glassine Autoclave Envelopes

L326 Blue Glassine Autoclave Envelopes:
2-1/2 x 5
A/10/ 1.55
B/25/ 3.11
C/50/ 5.18
D/100/ 8.63
E/1000/ 63.48
L327 Blue Glassine Autoclave Envelopes:
2-1/2 x 7
A/10/ 1.72
B/25/ 3.43
C/50/ 5.72
D/100/ 9.53
E/1000/ 70.08
L328 Blue Glassine Autoclave Envelopes:
2-1/2 x 8-1/4
A/10/ 1.76
B/25/ 3.51
C/50/ 5.86
D/100/ 9.76
E/1000/ 71.76
L329 Blue Glassine Autoclave Envelopes:
3-1/2 x 9-3/4
A/10/ 2.09
B/25/ 4.18
C/50/ 6.96
D/100/ 11.60
E/1000/ 85.26
L330 Blue Glassine Autoclave Envelopes:
6x 9-3/4
A/10/ 2.92
B/25/ 5.84
C/50/ 9.73
D/100/ 16.21
E/1000/ 119.16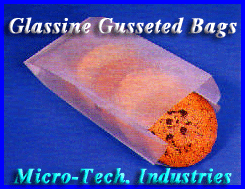 Glassine Gusseted Bags / with Serrated Flaps

L351 Glassine Bags Gusseted:
3 x 1-3/4 x 6-3/4
A/10/ .85
B/25/ 1.70
C/50/ 2.83
D/100/ 4.72
E/1000/ 28.29
L262 Glassine Bags Gusseted:
4 x 2-1/2 x 8-1/2
A/10/ 1.45
B/25/ 2.91
C/50/ 4.85
D/100/ 8.08
E/1000/ 53.84

Single Samples Available of Small Quantity Items Only: USA
S&H $2.00/ea. / $4.35 ea. for Medium sizes
Large Sizes $12.00 ea. / X-Large Items $20

Canada/International Sample Requests:
S&H $3.75/ea. / $9.25 for Medium sizes
Large Sizes $22 ea. / X-Large Items $38 ea.

This pays for Postage & Handling (Labor), Shipping Envelope and Sample its self.
Its not just 37¢ when it comes to hundreds of regular and large size sample requests.
Thank you for your understanding.
or
Send a Self/Addressed/Stamped/Envelope and $1 for Small Envelopes or $2 for Large Envelopes
Larger Envelopes/Bags ask for Quote

To View Our Complete Line of Glassine Products
or
For Prices on Larger Orders of
15000 & 50000
Contact
The Glassine Web Shop
at

TO OBTAIN AN ORDER FORM
CLICK ON THE LINK BELOW

Use Only for Snail Mail Orders

To View Our Complete Line of Glassine Doiliess
or
To View Our Candy Cups or Baking Cups
as well as
Our Lines of Glassine Paper Products
Use the Links below:

To Place an Order
First:
Determine which Items you wish to purchase and the total Price. Document the ID Number and Alphabetic Quantity ID
Second:
Contact the ORDER PAGE to Determine the Shipping & Handling Rate. Glassine and Poly Bags have different weights and require different Rates to calculate Shipping & Handling Fees.
Third:
Calculate the Additional Fee of 3.5% and add that if you are placing a PayPal or Credit Card Transaction to cover their Fees. If you are not and are sending a check or money order instead, please ignore this action.
Fourth:
Print an ORDER FORM and clearly Print and Fill Out the form fully, then send it to the address at the Bottom of the Order Page.

If you have any questions about preparing the Order Form. Please contact Us by Phone at (541) 952-0558

Some day we hope to have a much simpler Ecommerce System.
Thank You.